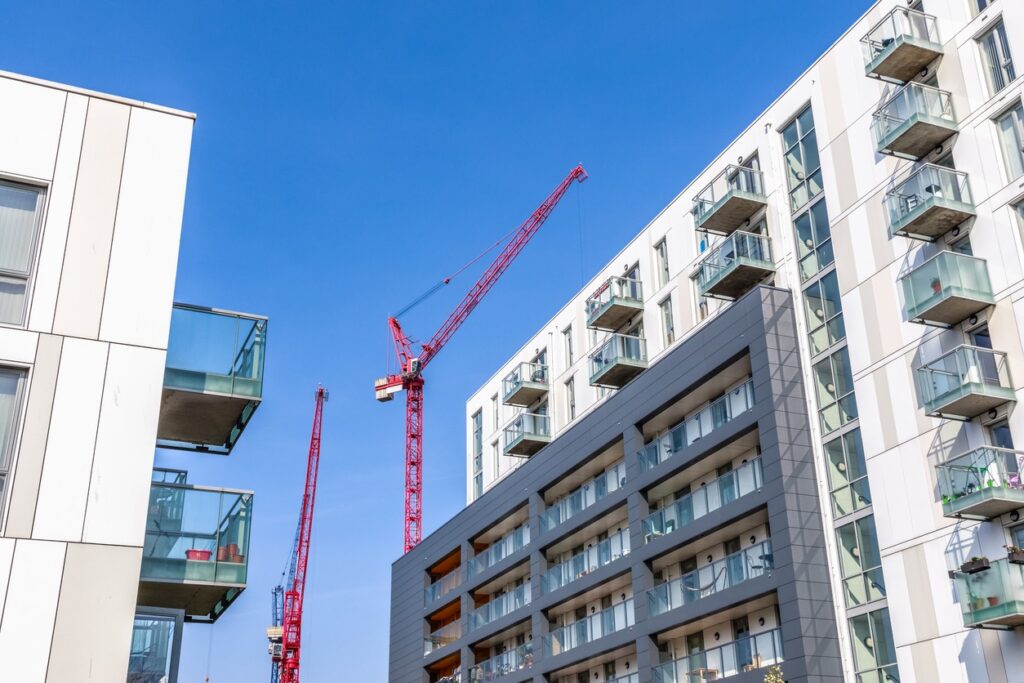 The Department for Levelling  Up, Housing and Communities (the DLUHC) has set out details of the new laws it hopes to introduce to force the residential development industry to pay to remove defective cladding and fix other building safety issues.
The measures announced are along the same lines as those threatened by Michael Gove just a few weeks ago when he wrote to the residential property development industry, warning developers that if they did not commit to footing the bill on a voluntary basis, the government would legislate. The measures proposed include:
blocking planning permission and building control sign off for developers who fail to submit to government demands – effectively preventing them from building and selling new homes;
blocking those same developers from participating in Help to Buy schemes;
shutting those developers out of major government contracts;
applying the new building safety levy to more developments;
including scope for higher rates for developers who do not engage to find 'solutions' to the cladding crisis;
introducing new powers to stop companies using 'shadowy shell companies' to construct new developments, which make them difficult to trace or identify ultimate ownership of the companies (and therefore difficult to enforce legal remedies against);
Cost Contribution Orders for cladding manufacturers who have been successfully prosecuted under construction production regulations requiring them to pay a share of the building remediation costs;
extending the protection beyond cladding issues – developers who still own a building of 11m or higher (or new owners connected to the original developer) will have to pay to fix any building safety issues found with the property. Building owners not linked to the original developer, but who can afford to pay, will also have to do so;
in cases where building owners do not have the funds to pay, the leaseholders will be protected by a cap (£10,000 for homes outside London and £15,000 for homes inside London) – this will limit how much leaseholders will have to pay towards non-cladding costs e.g. waking watch costs;
any costs paid by leaseholders in the previous 5 years will contribute to the cap; and
amendments to the Building Safety Bill approved by parliament last week also increase the time period building owners and landlords have to take legal action against manufacturers whose defective products have been used in construction to 30 years (at present it is 6 years).
Developers will be pleased to see the government has switched some of its focus on to the manufacturers of defective cladding products. Other recent government announcements on the same issues focused almost entirely on the developers who constructed the buildings. Whilst one can see that developers are a more attractive political target for the government and, in practice, much easier to recover costs from as many manufacturers are based overseas, it seemed infinitely unfair that manufacturers who were found guilty of misconduct for manufacturing defective products were not also forced to contribute to the cost of removing and replacing those products.
Arguably, however, the Building Safety Bill in its current form still fails to spread the burden equally between those culpable for defective cladding. The primary focus remains on developers who used defective cladding products in their builds, but the government glosses over the fact that these were products approved and sourced by contractors, engineers and architects that in many cases satisfied UK building regulations as they were at the time.
At the weekend, The Sunday Times reported that one major UK house builder, Persimmon, had obtained a legal opinion from a leading barrister, Lord Pannick QC, that the government proposals to shut developers out of the building industry were unlawful and an abuse of government powers. Other major house buildings companies (such as Crest Nicholson and Redrow) are also now pushing back. They readily accept leaseholders should not have to pay the costs of fixing building safety issues, but are understandably fed up with the blame and cost being laid entirely at their door. Particularly given that these companies have already set aside large funds to fix any problems with their own developments and are contributing to the cost of remediating other buildings through increased tax contributions introduced in last year's autumn budget.  It seems the latest proposals are a step too far for many developers and Mr Gove may soon find himself defending his government's proposals in court.
Also see Senior Associate Nick Cook's recent update on the developer's view on the new Building Safety Bill Michael Gove's recent announcement on the Building Safety Bill – the developers' view.
This article is for general purpose and guidance only and does not constitute legal advice. Specific legal advice should be taken before acting on any of the topics covered. No part of this article may be used, reproduced, stored or transmitted in any form, or by any means without the prior permission of Brecher LLP.