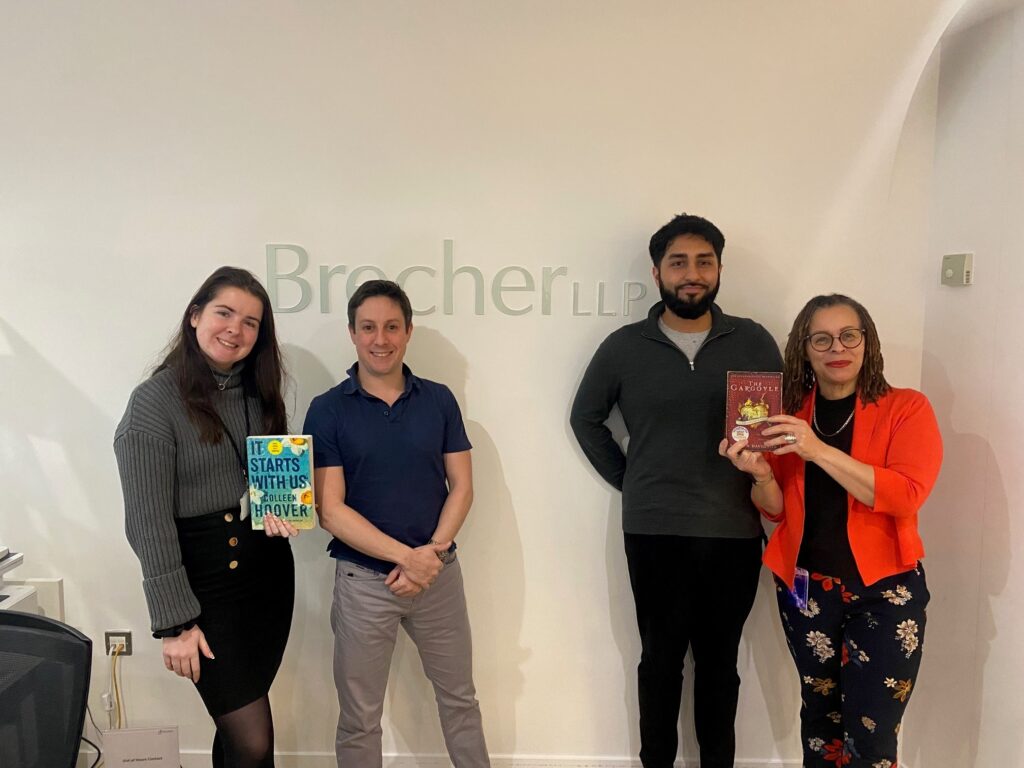 Our final few book recommendations from us at Brecher, including a review from Thomas Hulme, litigation solicitor, who is himself a published author.
Cryptocurrency and Blockchain Technology published by De Gruyter, 2020 (chapter written by Thomas Hulme)
Thomas Hulme, a Solicitor in Brecher's Commercial Litigation department, was fortunate enough to be asked by the primary authors of the handbook, titled Cryptocurrency and Blockchain Technology, to write a chapter in the handbook considering the legal and ethical considerations at play at that time, in relation to the use and development of cryptocurrencies and blockchain technology. Mr Hulme was invited to contribute to the book in light of his work in commercial disputes and litigation, acting for and advising businesses and high net worth individuals in relation to their complex litigation relating to crypto assets, and his appearance on a panel at an economic conference at Ruskin College Oxford.
This handbook provides comprehensive treatment of the gamut of issues and challenges that exist through the development of both cryptocurrencies and blockchain technology. The primary authors Shaen Corbet (at the time a Professor of Finance at Dublin City University Business School in Dublin, Ireland), Andrew Urquhart (at the time an Associate Professor of Finance at the ICMA Centre, Henley Business School) and Larisa Yarovaya (at the time a Lecturer in Finance, and Programme Director of BSc Finance within Southampton Business School at the University of Southampton) sought to create a handbook explaining and considering the various issues at play at the early stage of cryptocurrency and blockchain technology development, its impact on the commercial world, and how this new technology may affect the world generally, but with a focus on economics.
A Gentleman in Moscow by Amor Towles (reviewed by Rob Willox)
In June 1922, Count Alexander Rostov, a Russian aristocrat, returns from Paris to his motherland Russia a few years after the Bolshevik revolution.  The revolution deems the Count an "unrepentant aristocrat" and a Bolshevik tribunal sentences the Count to house arrest (condemned for writing a poem) in an attic room of the Metropol, a grand Moscow hotel.
For more the 30 years, the Count is forced to live in his attic room and adapt to life within the hotel.  As an eternal optimist  and intellectual he finds a new world within the confines of the hotel as a waiter, friend to staff and guests, confidant and paternal figure to a young lady and her daughter.
Whilst the book is set in an oppressive society (with idiocies of the Bolshevik systems highlighted through the book), the author manages to create a warm hearted story.  It is a sophisticated read (each scene is beautifully written and leads to a gripping ending) with fascinating characters; but it is the main character with great charm and wit, whom you come to love – not because he is an aristocrat or his money but because of his style, morals and optimism.
It Starts With Us by Colleen Hoover (reviewed by Emma Perry)
So, I may be one of the few that read this sequel before the original… thank you W H Smith for being out of stock of "It Ends with Us". But regardless, this did not change the value of this book for me, and it has led me to collating a collection of Colleen Hoovers novels to read throughout 2023 (obvious New Year's resolution appearing here).
"It Starts with Us" is an engaging and captivating story surrounding love, abuse, and healing. "It Starts with Us" picks up almost a year after the last book ended and follows Lily after she bumps into her childhood love Atlas who she hadn't seen since they were teenagers. It is written from both Atlas' and Lily's side of the story following their journey when life gets in their way of their true feelings for each other. While it barely dips back into the past (thankfully for me who hadn't read the first), except for some journal-reading and letter-writing, some of the loose ends are tied from the first novel.
Without giving too many spoilers I found this book very relatable to situations that most will go through in their life, and how the feeling of guilt can be a barrier to your true happiness. You will feel a range of emotions reading this book but finish feeling empowered through Colleens magical writing.
Spring at Blueberry Bay by Holly Martin (reviewed by Christabel Sutton)
It can be hard to find an easy read but Holly Martin's books are exactly that. Spring at Blueberry Bay is a romantic and heart-warming story to completely lose yourself in, good for a holiday or if you're like me, for your commute into work! It's easy to relate to the main characters and their motivation. Importantly, there's plenty of comedic moments. As a bonus, it's available on Kindle Unlimited.
The Boy in the Striped Pyjamas by John Boyne (reviewed by Chris von Strandmann's son, Noah von Strandmann, Age 11)
With an interesting plot line and an excellent cast of characters John Boyne never ceases to amaze, especially with this award – winning book named, The Boy in the Striped Pyjamas. The award that it won was called the Bisto Book Of The Year. It was then turned into a film.
This is the story of Bruno, a nine year old boy forced to move from a luxury, 5 bedroom to a smaller, albeit large 2 floor house in a desolate area. He calls it out – with after mishearing it from his older sister Gretel.
A few days after moving in, he looks out the window to see a fence, surrounding what he thinks to be a street, with little, moving, people. He moves towards the fence and sees a boy, in striped pyjamas.
It takes us through probably the greatest horror of the Twentieth Century and teaches us that children often do not see race or religion as a barrier to friendship.
This is a gripping tale that may cause you to shed a tear. I highly recommend it.
A handful of Dust by Evelyn Waugh (reviewed by Wahhaj Hasan)
Waugh's masterpiece "A Handful of Dust" depicts a highly sophisticated English society, illustrated with ample hedonism and elitist culture. The novel evolves around introvert Tony Last, who lives happily in his secluded country mansion, along with his son and Brenda his wife, who are high-flying influencers of society. Life in the country side is a world away from the decadence of the London lifestyle which allures to many.
The characters in the novel have wealth, but lack everything else including morals and decency. This is apparent by the breakup of Tony marriage when his wife has an affair with a young party-goer in London. Tony's life then starts to fall apart when the narrative takes a drastic turn for the worst (a family tragedy), and Tony travels across the globe to "find himself" but ends up bumping into a savage tribe in the jungle.
The reader feels sympathy for Tony, because the likes of his character embody all that's left of decency and worth in a society engulfed by tides of barbarism and moral decay. A very interesting read!
The Gargoyle by Andrew Davidson (reviewed by Liz Griffiths)
It's a fantastic read, well written and takes the imagination to extraordinary places!  Not to everyone's taste, but I have read it twice.