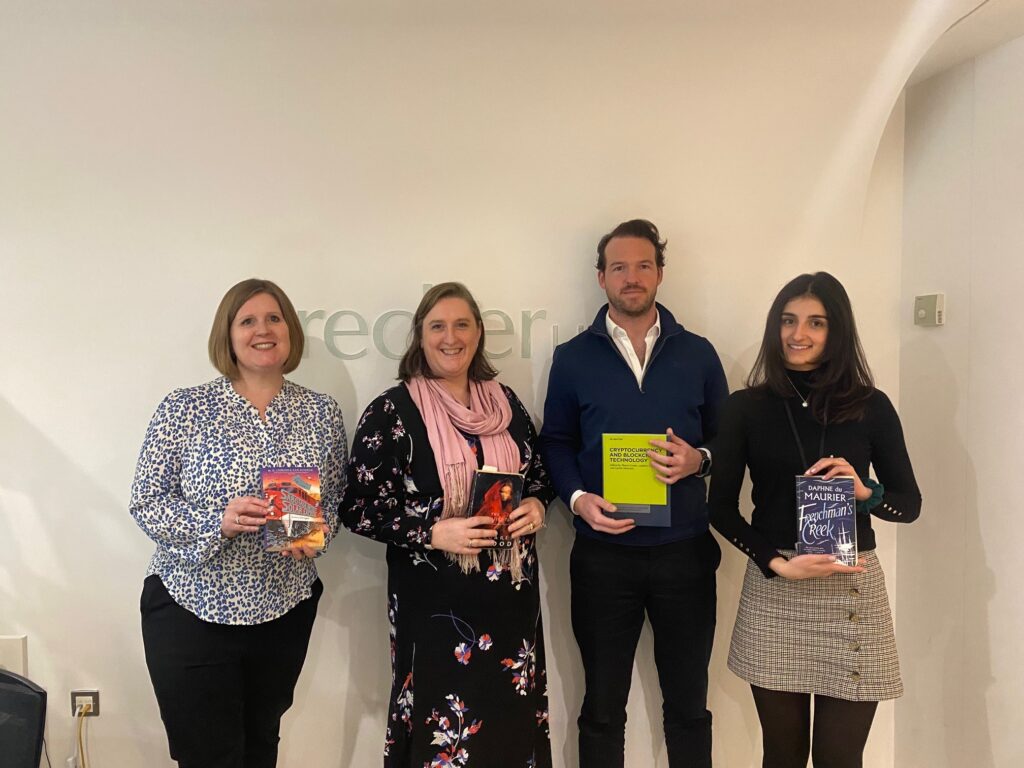 Mayflies, by Andrew O'Hagan (reviewed by Rod Smith)
I first heard of Mayflies on the Graham Norton Show. My take-aways, as I was half-listening , were that it's about enduring friendship, adopts a poetic style and includes someone called Noodles. I bought it for my wife and added in the front a quote, 'The mayfly lives only one day. And sometimes it rains.', followed by a disclaimer, thankfully,  that I knew next to nothing about the book.
I'm a sporadic reader and so when WBD loomed I decided to give Mayflies a go, particularly as I learnt that an axis is a weekend away in Manchester and a night at the G-Mex. At 18, I'd hopped on a coach from Reading to Manchester to do exactly the same thing.  While I didn't/couldn't match the characters' bacchanal activities, I certainly matched them in terms of excitement; I was there when 'Madchester' was in its full pomp.
Mayflies is beautifully written. It is poetic. The dialogue is fantastic and successfully captures the characters' swinging emotions when thorny subjects need to be wrestled. There are so many phrases and sentences which are funny, caustic, heart-rending, or all three. The one which hung over me, though unhelpfully given my previous comment is from the Bard himself, was 'and make death proud to take us.'  No doubt easier said than done, was my conclusion.
As you will have guessed, it's not a romp throughout and it can be a particularly tough read towards the end but well worth the anguish.
Mayflies has been adapted for TV and was aired, I think, at the end of last year but if you haven't watched it yet, I'd recommend (as you've heard many times before) reading the book first.
The Beekeeper of Aleppo, by Christy Lefteri (reviewed by Josephine Russen)
The honesty and depth of the characters humanise the very real trauma experienced by many refuges.
Heartbreakingly conceivable. Beautifully written.
I couldn't put it down.
Frenchman's Creek by Daphne Du Maurier (reviewed by Ematice Mokhtari)
Described as 'an electrifying tale of love and scandal on the high seas', the book strikes the perfect balance between a romance and thriller, following Lady Dona, wife and mother of two. Desperate to escape the normality of her life in London, Lady Dona decides to leave the city with her two children to retreat to the family's estate in Cornwall. Lady Dona finds herself involved with a French pirate and torn between love and self-sacrifice. This book was recommended to me by a friend and I don't hesitate to recommend it on!
Lord of the Rings by J. R. R. Tolkien (reviewed by John Goodchild)
I cannot beat a comment by CS Lewis about JRR Tolkien's Lord of the Rings "No imaginary world has been projected which is at once multifarious and so true to its inner laws; none so seemingly objective, so disinfected from the taint of the author's merely individual psychology; none so relevant to the actual human situation yet free from allegory."
The Appeal by Janice Hallett (reviewed by Michele Salter)
This book came out in 2021 and won lots of awards.
It is a modern update on the Agatha Christie genre.  What is so innovative about the story is that it is told almost completely in emails, messages and transcripts. Don't be put off by this however, it is an addictive murder mystery, cleverly constructed and the characters and plot are fascinating. The unique format lends itself to the reader having a hidden insight into the unfolding story to attempt to solve the mystery.
As to the subject matter; a drama production and a fundraiser lead to murder in a small town. Someone was murdered and a suspect is already in prison and the case in being reviewed by a barrister to see if an appeal can be brought.
As the blurb says: "Dear Reader – enclosed are all the documents you need to solve a case. It starts with the arrival of two mysterious newcomers to the small town of Lockwood, and ends with a tragic death. Someone has already been convicted of this brutal murder and is currently in prison, but we suspect they are innocent. What's more, we believe far darker secrets have yet to be revealed. Throughout the Fairway Players' staging of All My Sons and the charity appeal for little Poppy Reswick's life-saving medical treatment, the murderer hid in plain sight. Yet we believe they gave themselves away. In writing. The evidence is all here, between the lines, waiting to be discovered. Will you accept the challenge? Can you uncover the truth?"
Happily, Janice Hallett wrote another book, The Twyford Code, in 2022. This is in the same sort of format but told in a series of recordings with a complex puzzle at the heart of it. I enjoyed this as much as the Appeal, possibly more and would highly recommend it.
Her latest book, The Mysterious Case of the Alperton Angels, again in the same format of emails, text exchanges, newspaper clippings etc, is out now and is also very good.
The Forty Rules of Love by Elif Shafak (reviewed by Anjana Ghosh)
One of my favourite books is "The Forty Rules of Love" by Elif Shafak. It is a tale of two parallel stories. The reader is transported to 13th century Turkey and explores the relationship between the great Sufi poet Rumi and his friendship with the Sufi mystic Shams of Tabriz. At the same time, we follow the life of Ella in Massachusetts who has returned to work as a literary agent after many years as a housewife and is given a book which charts the life and teachings of Shams of Tabriz and his timeless and transcendental forty rules of love. We see how Ella is profoundly changed through the book which is writing its own love story to Ella. At the same time, Shafak works her transformative magic on the reader who ends the novel feeling uplifted, inspired, in awe of love, life, faith and the oneness we all share but so often miss.
The Wicked Wit of Queen Elizabeth II by Karen Dolby (reviewed by Jacqui Rook)
"It does what it says on the tin" – a delightful and uplifting read!
Sabotage on the Solar Express by M.G Leonard and Sam Sedgman (children's book reviewed by Caroline Ko)
My 9 year old son and I are currently reading together the most fantastic book – Sabotage on the Solar Express by M.G Leonard and Sam Sedgman.  Move over Agatha Christie – this whodunnit adventure is really first class! This is the fifth book in the series – "Adventures on Trains" that we have read together, and the stories are always enthralling. This adventure is set  in Australia – and has such vivacious descriptions and clever plot twists.  My son actually met the authors at a school event last term, and we are reading a signed copy, which makes it extra special.  We also took part in an amazing online zoom call with them during covid, and have been hooked ever since – despite not particularly being train enthusiasts but we love to travel and are seriously considering some train trips after reading this series.  At the end of the day, we both really look forward to some escapism with this series, and highly recommend it to children and adults alike!