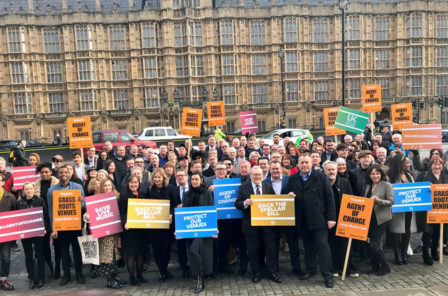 Developers would be advised to include details of proposals to protect residents from noise issues ahead of the Bill's anticipated passage this summer, advises Anjana Ghosh.  This might include adequate sound proofing where there are existing music venues in the vicinity of a proposed residential development.
What is an agent of change?
Simply put, the Bill applies to an agent of change.  This is the party who makes a change to the status quo. In this context, the responsibility for noise management measures is placed on the incoming business or individual, so the "agent of change", is often a property developer.
What is the purpose of the new bill?
Between 2008 and 2015, London alone lost over a third of its grass roots music venues which are vital platforms for emerging artists and live music.  The reasons for the decline in these venues are complex – noise complaints, development, a growing population and increased demand for housing, change of use legislation, rising property prices and rents, gentrification and competition from non-music sectors are all factors.
The new bill is aimed at protecting existing grass roots music venues and other cultural and community venues such as concert halls, theatres and community sports clubs; and live music venues, such as pubs and clubs, from being forced to make expensive changes when new residents move into the area as a result of the development of new residential properties in their vicinity, especially over questions of noise from long standing music venues. By enshrining the agent of change principle in planning legislation where the person or business responsible for the change is responsible for managing the impact of the change, developers, the agents of change, who are building new homes or converting buildings to residential use near music venues will be required to take account of existing music venues and to address noise issues to ensure that the new dwellings are protected from anything that could affect their amenity and enjoyment. Planning controls will be imposed to protect both existing music venues and residents of the proposed development through planning conditions when planning permission is granted for a residential development close to an existing music venue.
The Planning (Agent of Change) Bill has attracted phenomenal support from executive music industry figures – at least 75 MPs and peers and leading artists including Sir Paul McCartney, Ray Davies, Chrissie Hynde, Billy Bragg, Feargal Sharkey, Craig David and Nick Mason. Sir Paul McCartney notably commented: "without the grassroots clubs, pubs and music venues my career could have been very different. If we don't support music at this level, then the future of music in general is in danger". Billy Bragg said: "moving to a city then complaining about the noise from venues is like moving to the country and complaining about the smell of cow muck".
What happened previously?
One of the most well-known decisions in this area is the Ministry of Sound nightclub case. There were numerous complaints about noise from the club, made by the residents of Eileen House, a new adjacent development.
The club spent over a £1 million in legal, acoustic and planning consultancy costs over four years to safeguard the club against future noise complaints, something a smaller business would not be able to sustain.
The case was eventually referred to the Mayor and finally resolved in 2014 with a Deed of Easement of Noise being agreed between the Ministry of Sound and the developer, giving the Ministry of Sound the legal right to make noise at existing levels, coupled with safeguarding measures such as sound proofing and non-opening windows. This is an example of the "agent of change" principle, where a baseline is established and new residents or developers buy into the club's existing operations resulting in the co-existence of two ostensibly opposing uses.
So how will it all work in practice?
Greater power will be given to local planning authorities and planning inspectors through amendments to existing planning legislation to incorporate the agent of change principle into the decision-making process by imposing planning controls when granting planning permission for residential development, as well as the change of use to residential through permitted development rights. The Mayor of London will also be introducing an agent of change rule into the next London Plan following publication of the "London's Grassroots Music Venues, Rescue Plan" in 2015.
The Bill had its first reading in the House of Commons on 10 January 2018 and is due to have its second reading on 16 March 2018.  It could become law as soon as Summer 2018.